Send your resume or firm interest to info@downtownaustin.org by Friday, March 27, 2015.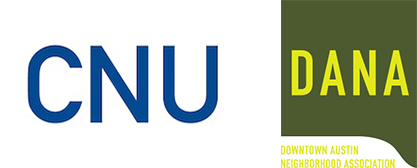 The Congress for the New Urbanism Central Texas Chapter (CNU-CTX) and the Downtown Austin Neighborhood Association (DANA) are seeking management and administrative support for both established and fast-growing organizations. CNU-CTX and DANA have combined funding forces and are looking for a strong, driven independent contractor or management firm to take their separate, but complimentary missions to the next level.
CNU-CTX and DANA are looking for:
*An innovative and informed champion for urban issues, passionate about Austin and committed to creating a vibrant, livable, walkable city.
*An organized leader comfortable asking for dollars and qualified to spearhead fund-raising and operations for two mature, but quickly growing non-profits.
*A strategic thinker motivated by the challenge and opportunity to create a political movement based on urbanist principles.
*An executive willing to roll up their sleeves and do what it takes to quickly grow an organization (or 3!).
Each organization has developed strong foundations of programming, infrastructure, and supporters, but needs an autonomous and driven contractor/firm who can effectively promote the work of CNU-CTX and DANA to potential funders and members while also continuing to run back-end operations and programming of each organization until additional support can be hired.
Initially, the independent contractor/firm will work primarily unassisted and with existing Board committees; however, is encouraged to a) galvanize and manage an additional volunteer-base consisting of members and Board Members and/or b) create internship opportunities to help implement tasks until funding is raised to hire additional staff for each organization.
Complimentary to CNU-CTX and DANA, an additional opportunity exists to develop a rapidly forming organization focused on championing the implementation of Imagine Austin. Evolve Austin is in need of leadership and administrative support to solidify its foundation. This position has no existing financial resources and is dependent on contractor's/firm's ability to raise additional dollars for compensation.
The preferred qualifications sought by all three organizations are as follows:
*Familiarity with urban growth and development issues
*Nonprofit experience
*Technical website management experience (WordPress)
*Familiarity with CRM Databases to manage Memberships
*Familiarity with Social Media platforms
*Familiarity with Google Drive and G-mail interface
*Quick Books or similar accounting software experience
*Association or other Organizational Management Experience
*Owns or ability to regularly access to basic office equipment and supplies (printer /scanner / fax, laptop computer, phone line, mailing supplies, etc)
This incredible opportunity for the right person/firm offers a flexible schedule and an inside path to work with and make meaningful relationships with influential members of the Downtown Austin community and City leadership.
Click Here to download the entire description of the role, including task expectations and requirements. Send your resume or firm interest to info@downtownaustin.org by Friday, March 27, 2015.
Thank you for your consideration,
Mike Clark-Madison, CNU-CTX | Meredith Powell, DANA | Cid Galindo, Evolve Austin