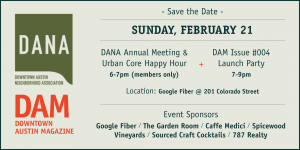 The DANA Annual Meeting / UCHH is taking place this Sunday from 6 p.m. to 7 p.m. at Google Fiber, 201 Colorado Street.
The meeting is open to members only:
6:00 p.m. doors open – join us for
6:30 General meeting / 2016 Board Elections / Presentation of Urban Light, Urban Blight and David Weaver Awards
We're excited to be teaming with Downtown Austin Magazine for their Issue #004 Launch Party form 7:00 – 9:00 p.m. After the meeting concludes, we're opening the doors to all interested in DANA and DAM.
Come for the meeting, stay for the nibbles, drinks and DJ'd music!