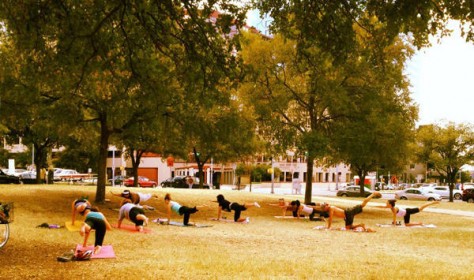 Spring is here and now is the perfect time to take advantage of free fitness classes in Downtown's Historic Squares. Yoga in the Park classes are free of charge and are led by certified yoga instructors in Republic Square and Wooldridge Square. Please bring your own yoga mat to class. Additionally, Tai Chi classes are held in Wooldridge Square once a month giving you even more options.
The class schedule for 2014 is listed below.  Please check Austin Parks Foundation's Facebook and Twitter feed for notification of class cancellations.
Republic Square Park
Yoga Yoga
Classes are held every Wednesday from noon to 1 p.m. in April, May, September, and October.
Yoga Yoga is proud to offer an all level Hatha Yoga class to participants at Yoga in the Park 2014! Yoga Yoga is Austin's home for traditional and advanced yoga studies, offering over 300 weekly classes at 5 Austin locations in everything from classic Hatha and Kundalini to Yoga for Health and Wellness.
Wooldridge Square Park
CorePower Yoga
Classes are held every Thursday from noon to 1 p.m. in April, May, September, and October.
CorePower Yoga strengthens, balances, detoxifies, and exhilarates the body and mind. CorePower Yoga classes will have you moving, breathing, and sweating. No matter your age, strength, or flexibility level, CorePower Yoga meets you where you are.
The Little Yoga House
Classes are family friendly and held the third Sunday of every month at 11 a.m. starting March 16.
The Little Yoga House is a boutique children¹s and family yoga school with a specific focus on healthy child development through yoga, music, dance, and art.
Tai Chi
Central Texas Tai Chi and Qigong schools are offering free Tai Chi at Wooldridge Square the second Saturday of every month at 9:00 a.m.
All ages and levels (including beginners) are welcome to follow along and experience the smooth, graceful and relaxed movements of Tai Chi. Tai Chi is a traditional martial art practiced for centuries in Asia to improve balance, coordination, concentration, and self-defense. There are also many documented health benefits as a result of Tai Chi and Qigong training.