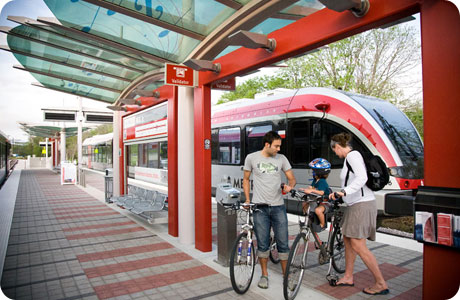 2015 is an exciting time for Capital Metro and the Project Connect partners. We continue to work hard to identify and implement new transportation choices for Central Texas as part of the Project Connect system plan (http://www.projectconnect.com/). In addition to MetroRail and MetroRapid, which are already in operation, we are excited about progress on additional components of the Project Connect plan.
A major opportunity for this year is planning for a new, permanent downtown MetroRail station. As ridership on the Redline continues to grow, the existing Downtown MetroRail Station can no longer accommodate the number of commuters. Platforms are over-crowded, and rush hour trains are standing room only. Additionally, persistent demands for later trains and additional weekend service show the success of the Redline, but also its current constraints.
Last year, Capital Metro received grant funding from federal and state sources to tackle these issues. These funds will allow Capital Metro to buy additional MetroRail cars and ultimately offer more frequent rail service. In addition, the Project Connect System Plan includes additional MetroRail lines serving other parts of our region and terminating at Downtown Station.  Anticipating more riders than ever, we need construct an expanded, permanent MetroRail station to welcome commuters downtown.
Dubbed the Project Connect – Gateway MetroRail Downtown Multimodal Station, this project will be a transformative landmark in downtown Austin, and we need your help in planning it.
We are eager to hear your feedback on project concepts and priorities. Join us downtown for a walking tour and workshop on January 31st, from 10:00 a.m. to 1 p.m. We'll begin with tacos and coffee at the current Downtown station, and then take a brief walking tour of the area to highlight current challenges and opportunities. We will then meet at the nearby Marriott Hotel to discuss what we have seen, and though a series of interactive exercises, get your feedback on project priorities.
Please join us on the 31st! If you cannot make it, please register here for an online workshop the following week. Your ideas will help make the Project Connect Gateway station a great new place for transit riders, downtown dwellers, all other central Texans and visitors alike.
Workshop: January 31st, 10 a.m. – 1 p.m.
Downtown Station (4th St, between Red River & Trinity)
Webinar: February 4th, 12-1p.m.
Registration link: http://bit.ly/1xPpTVc
Reasonable accommodations will be provided upon request. Please provide notice at least two days in advance. Contact (512) 369-6201 or email info@projectconnect.com for more information or to request informational materials in another format.