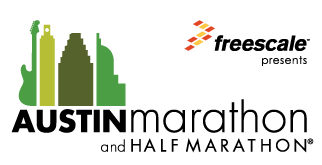 Here's the scoop on traffic impacts:
1. The start and finish lines are centered on Congress Avenue because of its proximity to downtown hotels where a majority of our runners will be staying.
2. The race starts at 0700 on Sunday morning, 15-Feb. on Congress Avenue, at 2nd Street and runs southbound across the Congress Avenue Bridge. Starting here allows us to re-open the bridge and dismantle all of our start line infrastructure so we can re-open Cesar Chavez and Congress Avenue up to 4th Street to east-west traffic.
3. The finish Line is located at 10th and Congress and is built on Saturday, 14-Feb.
4. There will be clearly detours around the sections of Congress Avenue that are used for the race during the set up and operation of the event.
5. 2nd Street at Congress Avenue will be converted to two-way traffic so that residents at the Austonian and guests at the JW Marriott can get in and out of their property.
6. All sidewalks will remain open to pedestrian traffic except the sidewalk at 9th St. and Congress Avenue which is closed to provide security for our medical tent. Pedestrians will have a marked detour route at that point.
7. Cap Metro 801 Bus southbound will be detoured from Guadalupe to second street and over to Lavaca to access Congress Avenue and only the Riverside Drive stop will be closed until runners pass, which according to Cap Metro's Sunday schedule will only affect two buses.
8. Cap Metro 801 Bus northbound will be delayed briefly at Riverside drive until the last runner has crossed the Congress Avenue Bridge at the start. According to the Cap Metro schedule, this will affect one bus.
9. Cap Metro 803 Bus westbound lane will not be affected as we are keeping a westbound lane open on Cesar Chavez.
10. Cap Metro 803 Bus east bound will be detoured off of Cesar Chavez while runners are outbound on Cesar Chavez from approx. 0730 until 10:00 a.m.
For full information, click here.
(If you received our newsletter, we inadvertently put a link for road closures to the half marathon on 1/25.  Our apologies!)