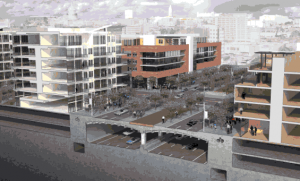 DANA Members,
We know you are already very aware of TxDOT's Open Houses. The Virtual Open House is up and running; it will remain open until July 12th. We are hoping that organizations like DANA will consider notifying their full membership of the opportunity to comment on future plans for I-35 through the Urban Core of our city (from Lady Bird Lake to MLK). The Urban Core segment can be found at:
http://www.mobility35openhouse.com/Location/Segment5/Location.aspx
In addition, TxDOT is holding a physical open house Thursday (6/27) from 3 pm to 7 pm at the Kealing Middle School Cafeteria (1607 Pennsylvania Ave.).
TxDOT has two alternatives to comment on:
1. Rebuild the Urban Core of I-35 much like it is today, where the main lanes are elevated over our surface streets.
2. Rebuild the Urban Core of I-35 with depressed main lanes, with bridges and caps across, at surface street level.
We at Reconnect Austin are advocating for a full cap that truly reconnects Austin and fully restores the fabric of our city. The Reconnect Austin alternative is not posted on TxDOT's Virtual Open House. However, we urge you to advocate for the depressed alternative they are currently showing.
It is critical that TxDOT hear from our community at this time. If TxDOT hears from YOU that Austin prefers the depressed alternative, we will be closer to creating the best solution for Austin.
To view TxDOT's alternatives for the Urban Core follow this link: http://www.mobility35openhouse.com/Location/Segment5/Location.aspx
Please forward this message to your membership, your friends, your social network, and your co-workers. We need as many people as possible to follow the link and let TxDOT know what they believe would be the best choice for Austin.
Thanks and have a great day,
Sinclair, Heyden and the Reconnect Austin Team
——
READ DANA'S LETTER OF SUPPORT FOR THE CUT AND CAP PLAN HERE.