May Urban Core Happy Hour
When: Thursday, May 8, 2014, 6:30pm-8:30pm
Where: ALTA's Cafe (map | transit)
Business Sponsor: The USU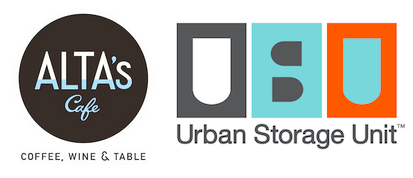 About ALTA's Cafe
Alta was the middle name of Lady Bird Johnson. She was a special lady who was instrumental in the beautification of the lake and its surrounding hike and bike trail. This natural escape in the middle of Austin's urban setting stands as testament to her vision. We developed ALTA's to support the beauty of the park and the active lifestyle that surrounds us at the Waller Creek Boathouse on Lady Bird Lake.
We're laid-back people, but with an appetite for premium sensory experiences. We love good coffee, healthy food, sustainable wine and craft beer. So that's what we're doing.
About USU
The Urban Storage Unit ("the USU") Company has designed and manufactures a revolutionary, patent pending, first-to-market personal storage unit that transforms previously wasted space above the hood of a vehicle's parking spot into instant secured storage. The USU occupies the large volume of space above a vehicle's hood and turns it into a valued resource for tenants and owners alike. The USU has been specifically designed for todays modern urban dwellers and is the perfect storage solution for seasonal clothing and holiday decorations, as well as bulky hard-to-store items such as golf bags, luggage, power tools, and other items that have long posed a storage quandary to apartment and condo dwellers (most of whom have no garage or other onsite storage options). Each USU is capable of securely storing up to 1,000 pounds of items and features a two-point keyed metal lock and fully welded seams that keep the contents safe. The USU is practical, convenient and durable, while projecting a pleasing contemporary styling. The USU is already approved for use in; The Four Seasons, The Austonian, Spring, The W, The Shore, ParkWest Residences and BartonPlace Condominiums.
Urban Core Happy Hour Format – PLEASE READ!
DANA Urban Core Happy Hours are open to all! DANA Members get in free, and non-members pay $10. Entry into event includes food and drink tickets (until we run out!).
Want to join DANA?  You can sign up at the Urban Core Happy Hour, or you can click here to be directed to our Membership page to join now.
Membership includes free entry to Urban Core Happy Hours for one year after your sign up date!
___________________________________________________________________
June Urban Core Happy Hour
When: TBD
Sponsor: TBD
Where: TBD